Welcome to Mohair Bear Making Supplies
Supplying all you need to make 'Bears of Excellence'
'Home of the largest UK selection of hair for the very best bears'
We are the leading UK wholesale and retail stockist of much more than the doll and teddy bear basics you need to make your collectable heirloom bears and dolls. Our teddy bear making and doll making supplies will help you make the very best OOAK or limited collectable bears and dolls. From our warehouse in Shropshire we can offer you the finest selection of fabrics and supplies that we source from worldwide locations... We stock the largest selection of Steiff Schulte mohair in the UK- Schulte mohair is a well know fine quality mohair fabric, Schulte have been producing Schulte mohair and Alpaca since 1901, The famous Steiff Schulte Mohair bears are made from these fabrics. Helmbold mohair - Helmbold mohair has been manufactured since 1900. The Helmbold mohair they produce today comes in a wide variety of textures and colours. South African mohair - We wholesale our South African mohair Fabric. South African mohair fabric comes in a variety of colours and textures with a firm coated backing that does not fray. Alpaca - We supply Schulte Alpaca and Helmbold alpaca, some colours are exclusive to us. Viscose fabrics - We supply Schulte viscose fabrics and Helmbold Viscose fabrics in a wide variety of colours and textures.
Our warehouse holds a vast range of products, visitors are welcome to visit us!

ORDERING - We ship worldwide!
If you are looking for something urgently that we currently do not hold in stock email us we will order it for you...
Telephone Enquiries... We are not able to answer the phone regarding order enquiries because all available staff are working in the packing warehouse filling orders. If you have an urgent enquiry simply email us...
Order Status... If you want an update on a current order our account system will do this for you. Simply log into your account and you will see the status of your order. This is kept up to date and accurate. You do not need to contact us.
We Accept PayPal - Plus All Major Credit & Debit Cards - Also Mail Order Cheque Payments!

Need more help with your ORDER or ACCOUNT click here!
Warehouse opening Hours 10:00am - 15:00pm GMT
Weekend Visitors By appointment only!
From the product links on the left of the screen you can purchase much more than the doll and teddy bear basics you need to make heirloom bears and dolls. Teddy bear making patterns, Doll Patterns, Mohair teddy bear kits, Miniature teddy bear supplies, Glass eyes, Teddy bear and doll joints, Custom made hand painted glass eyes, Quality fillings & weightings, Glass beads for reborn dolls, steel shot, Teddy bear & reborn doll Safety toy joints, Safety toy eyes, Bear and Doll Making Tools, Soft Toy Making Kits, Teddy Bear Noses, Copic Markers and Airbrush Kits, Needle felting Supplies, RIT & Dylon Fabric Dyes, these links only brush the surface of what we sell, you can find so much more the teddy bear basics and doll making supplies from our product web-links above and to the side.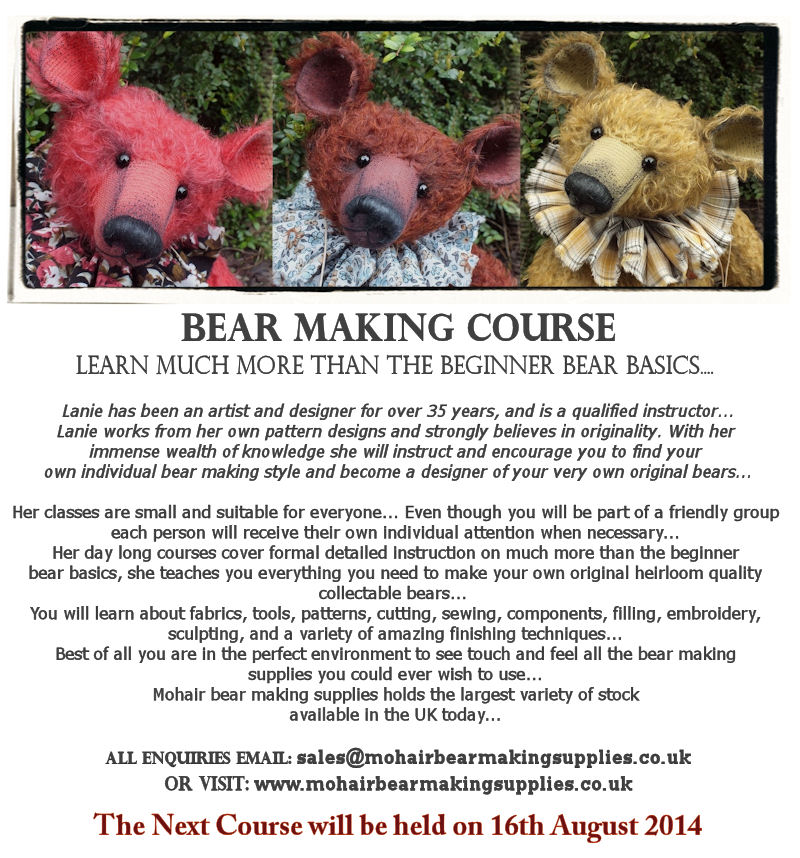 Cost including bear kit and refreshments £85.00
Michelle Lamb Advanced Bear Making Workshop...
September 20th 2014 - All Day Event , Lunch Included!
Venue - Mohair Bear Making Supplies Warehouse.
THIS EVENT IS NOW FULLY BOOKED!
Spend a day with the accomplished bear artist Michelle Lamb. Learn how to create beautiful bears like she does... She will show you how to add depth and expression to your bear's face by adding expressively shaped eyelids and hand painted eyes, highly dimensional mouth sculpting, pulled toes, perfect ears, perfect noses, and "make-up" that can both fix flaws and/or enhance features and much more'...
Want to take part? Places are granted on a first come first served basis, we will hold a waiting list in case of cancellations...
Message us with your email address now, and we will forward details...